**HALF-STAFF ALERT~ May 15, 2017** In Remembrance ~ Peace Officers Memorial Day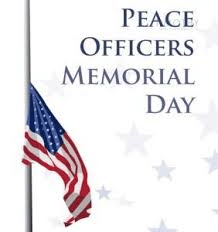 Monday, May 15, 2017
FLY YOUR FLAG AT HALF STAFF THIS DAY
In honor and recognition of National Peace Officers Memorial Day
>>click here to see our email<<
Every May 15 by proclamation of the President is Peace Officers Memorial Day.
Peace Officers Memorial Day is a part of Police Week, paying tribute to local, State and Federal
law enforcement officers.
Flags are flown at half-staff in memory of those officers who have made the ultimate sacrifice.
Services honoring the fallen will be conducted across the country, including Washington, D.C.
HISTORY: Peace Officers Memorial Day was created on October 1, 1961. At that time, Congress asked the president to designate May 15 as a day to honor peace officers. On October 1, 1962, John F. Kennedy signed the bill into law. In 1994, Bill Clinton made an amendment through Public Law 103-322 that directed the United States flag be flown at half-staff on May 15.
In 1982, an annual Memorial Service gathering in Senate Park began and later became know as Police Week. Survivors and supporters honoring those fallen peace officers grew into a series of events that now includes candlelight vigils, pipe band competitions, conferences and National Peace Officers Memorial Service which is sponsored by the Grand Lodge of the Fraternal Order of Police.
For more information visit www.policeweek.org.
Police week is from Sunday, May 14 until Saturday, May 20 ~ For ceremonies in your area be sure to check with the local Police Department.