**HALF-STAFF UPDATE~March 7 – 11, 2016** Death of Nancy Reagan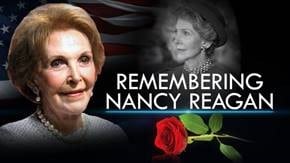 The recent proclamation lowering U.S. flags to half-staff in honor of the memory of Nancy Reagan will end at sunset on Friday, March 11, 2016 the day of her funeral.                                                       View the previous post to read the Presidential Proclamation.
Former first lady Nancy Reagan's funeral will be held Friday at 11 a.m., according to Melissa Giller, spokesperson for the Ronald Reagan Presidential Library.
Reagan will lay in repose Wednesday and Thursday before being buried Friday at the Reagan Library in Simi Valley, California, next to her husband, Ronald Reagan.
http://ktla.com/2016/03/09/nancy-reagan-thousands-expected-at-presidential-library-in-simi-valley-for-public-viewing/#